History of The Selma to Montgomery March
Selma March, also called Selma to Montgomery March
political march from
Selma
,
Alabama
, to the state's capital,
Montgomery
, that occurred March 21–25, 1965. Led by
Martin Luther King, Jr.
, the march was the culminating event of several tumultuous
weeks during which demonstrators twice attempted to march but were stopped, once violently, by local police. As many as 25,000 people participated in the roughly 50-mile (80-km) march. Together, these events became a landmark in the
American civil rights movement
and directly led to the passage of the
Voting Rights Act
of 1965.
2
Continue Reading
People of Selma
VIEW PHOTO GALLERY
1. "John Lewis Quotes." BrainyQuote.com. Xplore Inc, 2018. 15 April 2018. https://www.brainyquote.com/quotes/john_lewis_810341
2. Wallenfeldt, Jeff. "Selma March." Encyclopædia Britannica, Encyclopædia Britannica, Inc., 14 Mar. 2018, www.britannica.com/event/Selma-March.
Powered by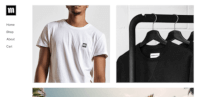 Create your own unique website with customizable templates.